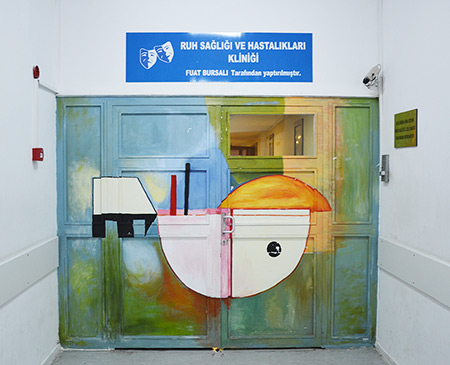 Under construction for a long time the psychiatry clinic's repair costs were paid by the Chairman of the Managing Board of Bursalı Fuat Bursalı and the clinic was put into service with 25 beds and camera systems again as well as the therapy rooms.
Addressing a short speech at the opening, Prof. Dr. Selçuk Kırlı, Head of Psychiatry Department, told that "Today we opened our psychiatry department after the maintenance works. After the repair works sponsored by Mr. Fuat Bursalı our clinic now serves with 25 beds. Since our clinic has been servicing to Bursa people for many years and therefore known by many, and it is now the most modern psychiatry clinic in Turkey. Cameras at all rooms, central music system, occupational therapy and group therapy rooms, gymnastic hall allow all patients to find what they look for. This place is now at a global standard".
And Businessman Fuat Bursalı stated that "One day when I visited my dear doctor, we paid a visit to the clinic. Clinic's condition was not that good. And Selçuk Kırlı told me that do something becoming to you. And we adopted this as a duty. As a beneficent businessman, we have created a good structure here. During construction I checked and saw the work was perfect. And now I see it is a very favorable clinic. I would like to thank to firstly Prof. Dr. Selçuk Kırlı, Head of Psychiatry Department and his team for availing us of this opportunity.