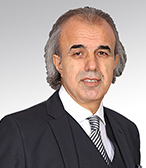 Fuat BURSALI
Bursalı, looking back on more than half a century of success, continues its way with the same belief, ambition and determination as in its very first days.

Süleyman Bursalı, our family elder, from whom I have inherited the Bursalı company flag, also thought this way. To work in a people-oriented approach, to serve people, and to respect all rights and laws, all those principles I have learned and adopted from him made me live in the awareness that the greatest legacy is honesty, and I always knew this as a responsibility for myself, and I dedicated myself to instil, and to hand on this philosophy to the next generation. I wholeheartedly believe that those generations to succeed us will act and work accordingly.

Having been busy in the textile sector for three generations, Bursalı, based on those decisions taken in the early 2000s, has become a global company, which today embodies environmentally friendly companies both in Turkey and all over the world, – besides textile production – being busy in the foreign trade, the tourism, the real estate, and the construction sector, respectively.

We always are putting the satisfaction of our customers, our employees, and our country into the fore. When realising investments, we act based on this understanding, and take utmost care to avoid to perform any activity that won't benefit the society.

We are a big family with a continuously increasing number of members. Our aim is to increase this number even more by opening and developing new fields of activity. Our understanding of considering both our employees and our customers as the pillars of our family has brought Bursalı to its today's position. Their satisfaction and welfare are indispensable factors for us.

Based on both its production quality and its vision and philosophy, Bursalı will always be in a determining position in all those sectors in which it is busy. Our aim is to progress continuously, and to become increasingly bigger and stronger by passing on the flag to the next generations.